Apr 25, 08:14 PM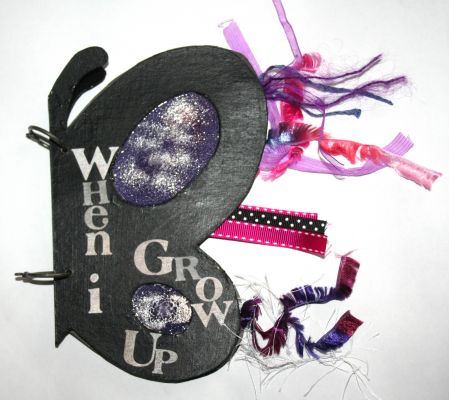 As soon as I saw the guest artists previews I fell in love with the idea of using a butterfly as the cover of my mini-book. After asking Alissa a couple of questions I decided not to buy a cover (would take too long!) so I made my own out of board and painted it with black acrylic.
To colour the 'wings' I did a quick bit of embossing with silver and purple powder and adhered that to the back of the board. I wanted the outside of the book to have plenty of colour and also for the book to be fastened at both sides. I selected a few different ribbons and fibres, cutted them quite long and stuck those to the back of the wings. As I wanted the ends of the ribbon to be covered I cut some Basic Grey papers to size and put them on the inside of the cover. I joined the 2 covers using Karen Foster scrappers rings.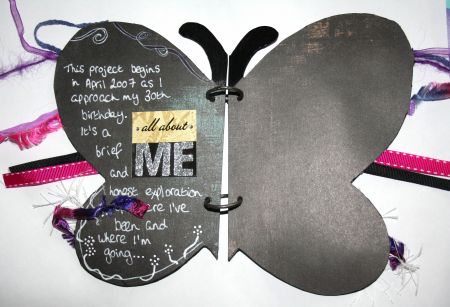 The inside of the front cover gave me a great opportunity to do an introductory piece of journalling so, using a white gel pen, I did a short intro and a bit of doodling as well as adding the MAMBI Urban Bling embellie – It's All About ME!

Filed under: